8 Ideas for an Autumn Cycling Getaway

If you're anything like any of us here at Pendle Bike Racks, you'll know how good it feels to complete an awesome trail on a beautifully clear day whilst on a lil' break away from home. So, we thought it would be cool to show you a handful of our favourite trails, spread all across the UK.
We've gathered a selection of great spots located across England, Scotland and Wales so none are too far from wherever you are right now! Don't worry if you're not the fittest of the bunch either as there are some trails that are less heavy on the legs than others!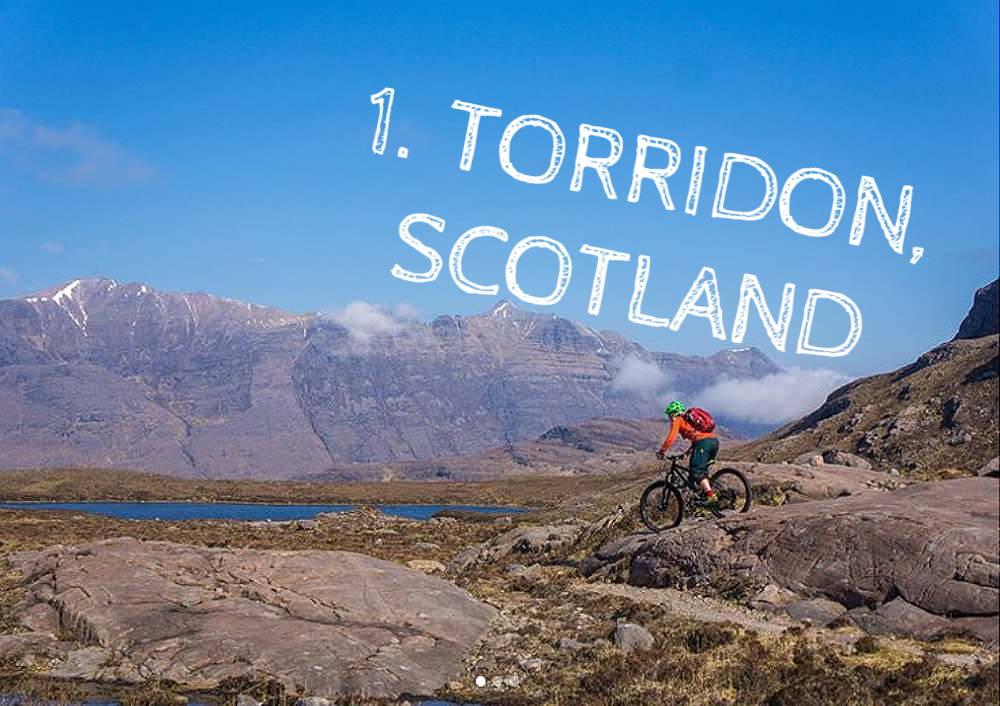 PHOTO CREDIT: https://www.instagram.com/rob.brown26/
Torridon is one for those of you who are up for any level of challenge and have a keen eye for the breathtaking landscapes and sea views of Scotland's west coast. Here we have an increasingly popular destination with dozens of trails to go at, famous for its challenging but enjoyable climbs with never ending descents into the beautiful Scottish village.

Local cafes and pubs are open all year round to provide you with hearty home-cooked meals and an array of real ales, the ultimate way to finish a long day of riding! Torridon has plenty of cosy B&B's and hostels for you to take a pick from to make this a 'must go' place for true mountain bikers.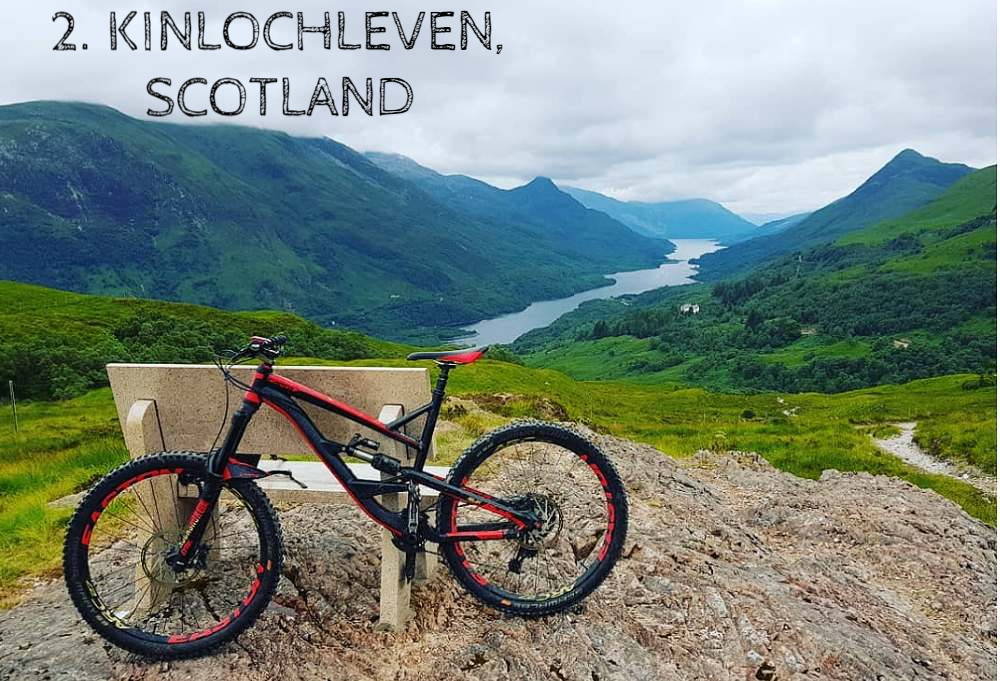 PHOTO CREDIT: https://www.instagram.com/brute_sev/
Kinlochleven is a mountain biking haven situated in the highlands of Scotland. Home to five strenuous but awesome trails through the mountains ranging from 18 km to 44.5 km. Note that these trails are not for the faint-hearted.....so if you're looking for an easy ride these aren't the trails for you - all being ranked at a hefty 4+/5 across the board.
For more knowledge on what's available then check out
  http://www.mtbtrails.info/Trail_Venue.aspx?VenueNumber=35
There's a range of accommodation options, from hotels to holiday cottages, to campsites! One we'd recommend is Macdonald Hotel and Cabins, which offers a range of cabins and campsite facilities, with two great dining and drinking facilities (Bothy Bar!) to unwind after a challenging day. If you can't get enough of the highlands then this is definitely a place you should consider!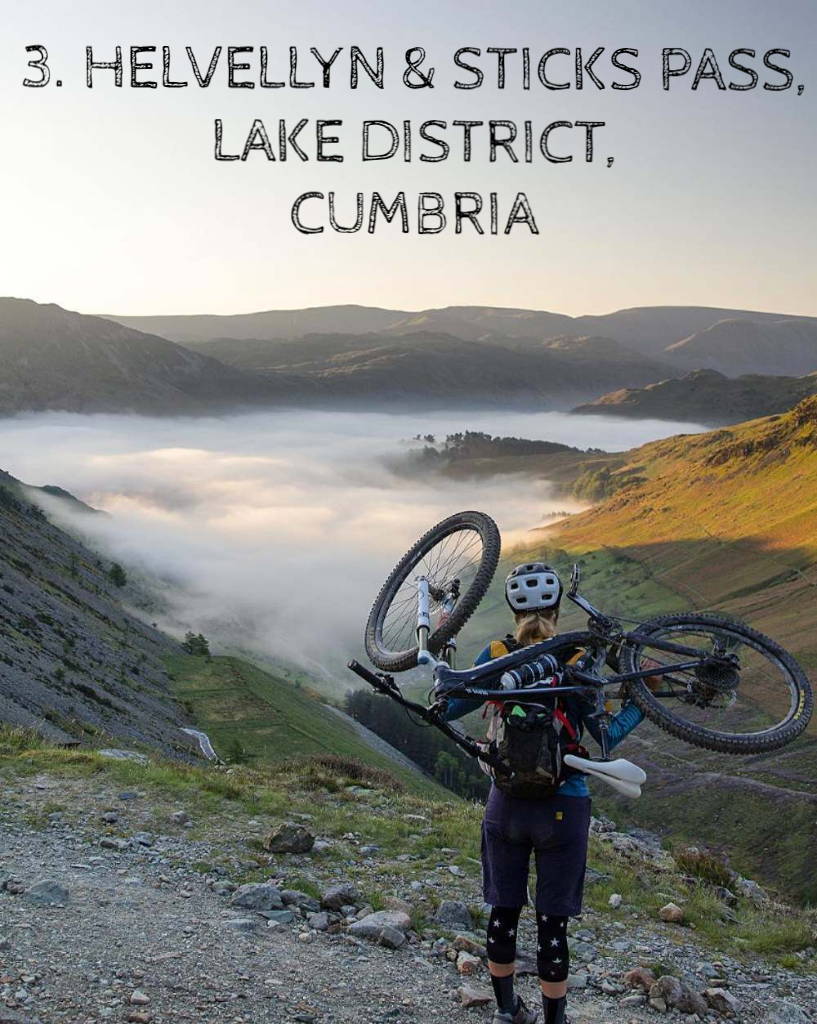 PHOTO CREDIT: https://www.instagram.com/joannashimwell/
The Lake District is a nationwide LOVE and MUST. As a whole, this is a destination we would definitely recommend....but today we're focusing on the mighty Helvellyn - the 3rd highest peak in the Lakes. Admittedly, this is a super daunting sight from the bottom but it is 110% worth it. The ride begins in Glenridding, starting relatively easy (teasing you for whats to come) and becoming increasing difficult as you climb over 3000ft.
This is definitely a ride for a clear day as a trail this strenuous does not want to be taken on in rough conditions! However, completion of this monstrous climb leads to an exciting single track descent through Sticks Pass. This emotional roller coaster of a trail is near Keswick, Grasmere, Ambleside and many more stunning towns which the Lake District has to offer so you'll never be short of places to wind down after your day.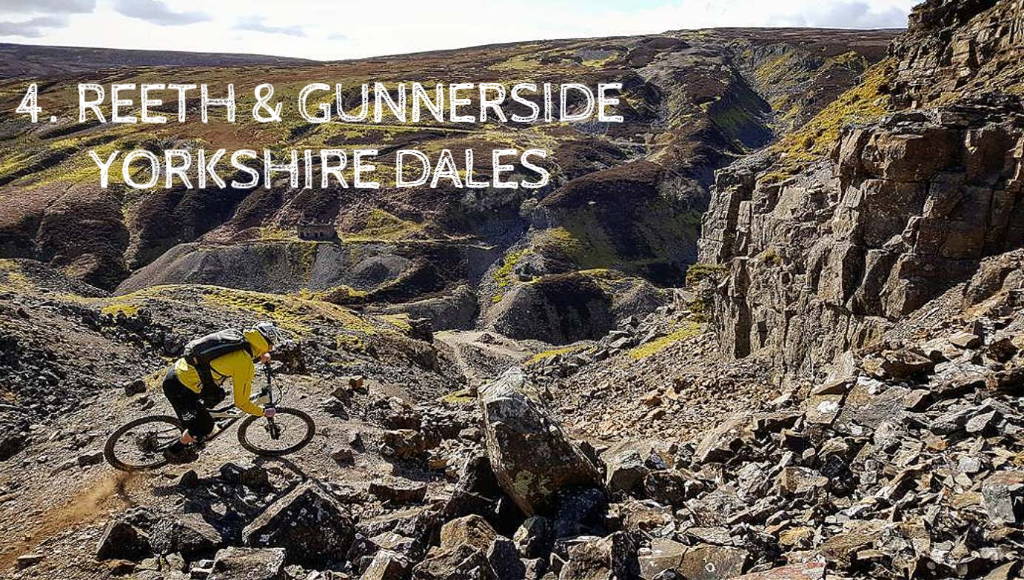 PHOTO CREDIT: https://www.instagram.com/mikeypearman/
Reeth and Gunnerside are located in the heart of the infamous Yorkshire Dales and are home to some of the 'easier' trails than the previously suggested mountain climbs! There are five trails to choose from ranging from 20 km - 37 km and explore the villages of Reeth, Gunnerside and more that Swaledale has to offer. Further to this you'll find yourself exploring the moorlands which can result in facing blowing gales and tough ascents but the stunning surroundings of the Yorkshire Dales make up for this in every way.
Once up on the moorland there are multiple single track descents which offer both technical routes and faster, smoother routes down. There are many lovely little local villages which offer B&B facilities and pub grub for a wind down after the days out.
For more information on any trails in this area have a look at the following;

http://flattyres-mtb.co.uk/route-guides/yorkshire-mtb-routes/langthwaite-and-reeth-moor/

http://www.mtbtrails.info/Trail_Venue.aspx?VenueNumber=125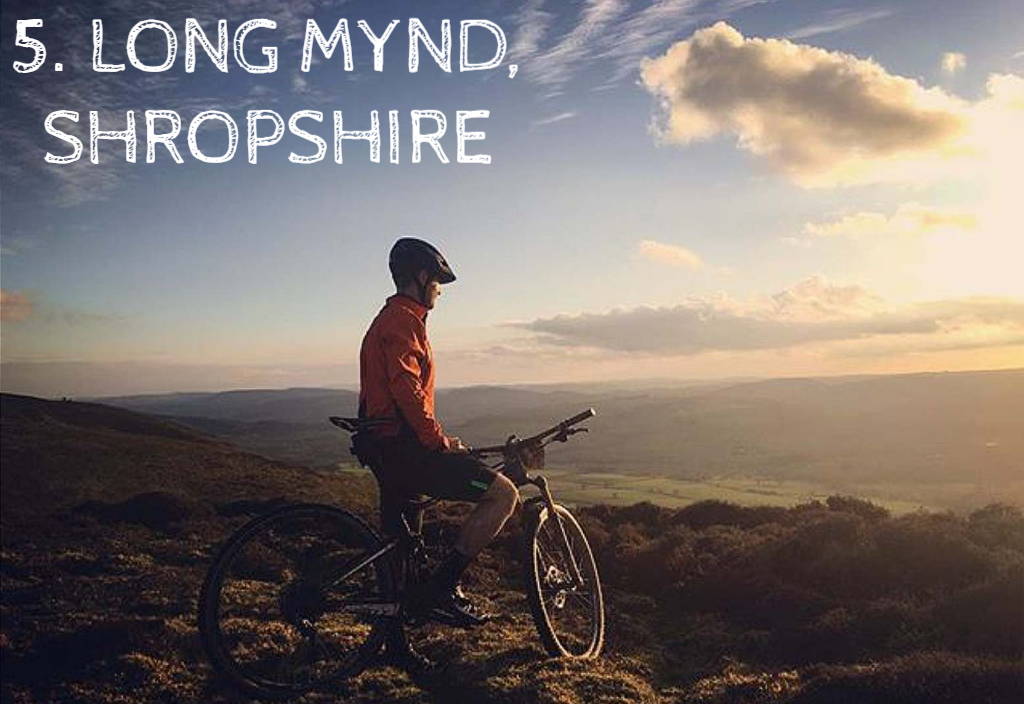 PHOTO CREDIT:   https://www.instagram.com/aimsadventure/
Long Mynd is a sequence of hills in Shropshire with tons on offer for you mountain biking fans, with steep climbs reaching a peak of 516m and awesome single track descents. Once you have reached the peak, on a clear day views as far as Wales can be admired which makes it all worthwhile and there are trails to cater for all abilities.
'Shropshire Hills Mountain Bike and Outdoor Pursuit Centre' are a great organisation who cater for any cycling needs in the Long Mynd area, offering maps of the available trails, guides and pretty much anything else you'd need for an awesome biking break! They are joined with the National Trust which assures the land is kept pristine for all your adventures!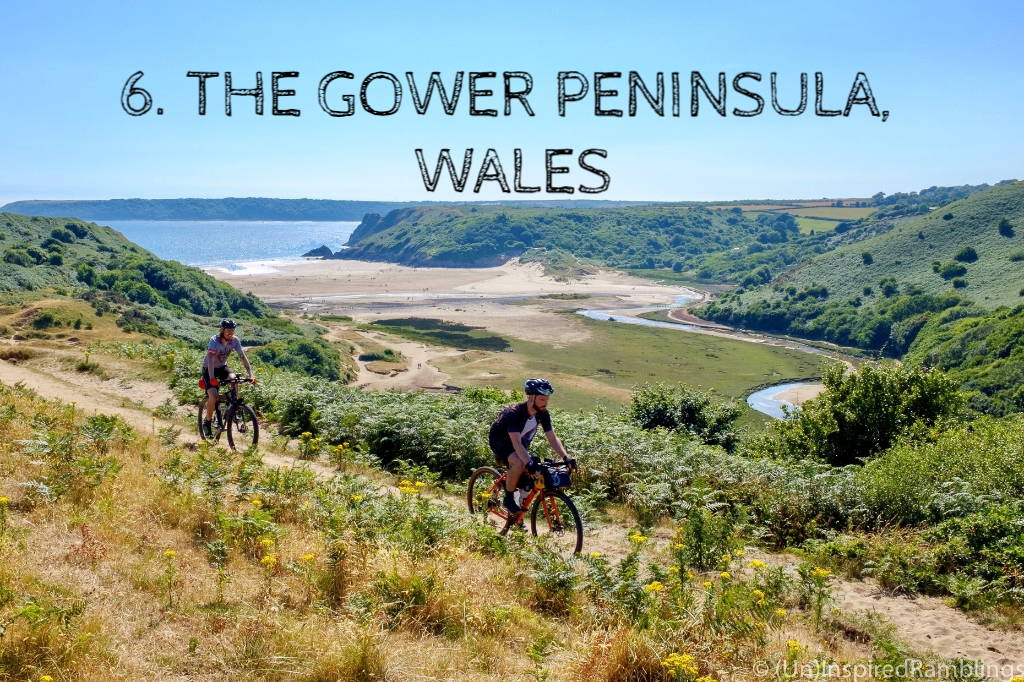 PHOTO CREDIT: www.instagram.com/uninspiredramblings
The Gower Peninsula is located in south Wales and stretches all round the coastline, which means there is much to explore when it comes to mountain biking. There is one particular route which covers most of the peninsula over a 2 day mission. The route is 80km which climbs over 3400ft and has back roads, bridleways and many trails to offer. Ranked medium for difficulty, this ride offers some amazing coastal views all the way round which is what makes the area so famous.
The route passes through over 40 towns and villages offering tons of places to stop off for food and sleep when it comes to the night.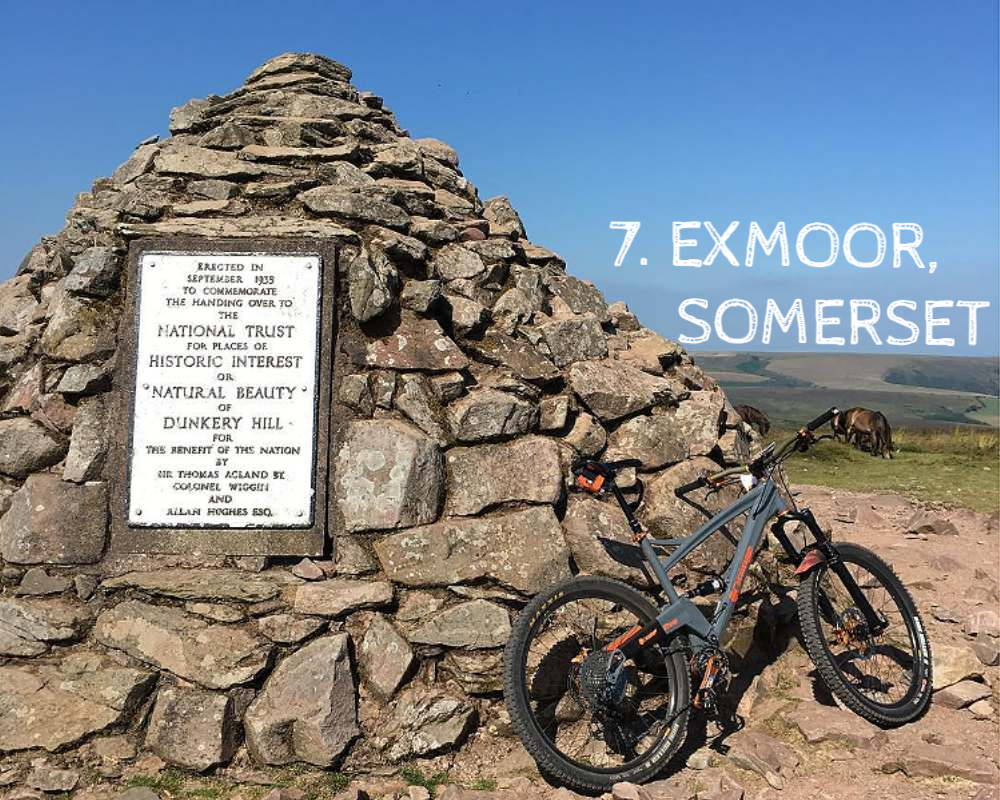 PHOTO CREDIT: https://www.instagram.com/plainsrider/
Exmoor is a great destination for both mountain biking and cross country cycling. Exmoor is the home to over 350 miles of bridleways and paths which explore moorland, valleys, woodland, rivers, cliffs, rocky single track and beaches. The area is suitable for riding 99.9% of the year, though bear in mind that Exmoor is also very popular with walkers and tourists when planning a trip. On the bright side, Exmoor is famous for being home to some of the best and most challenging off-road routes in the UK....so this is definitely one that we would recommend!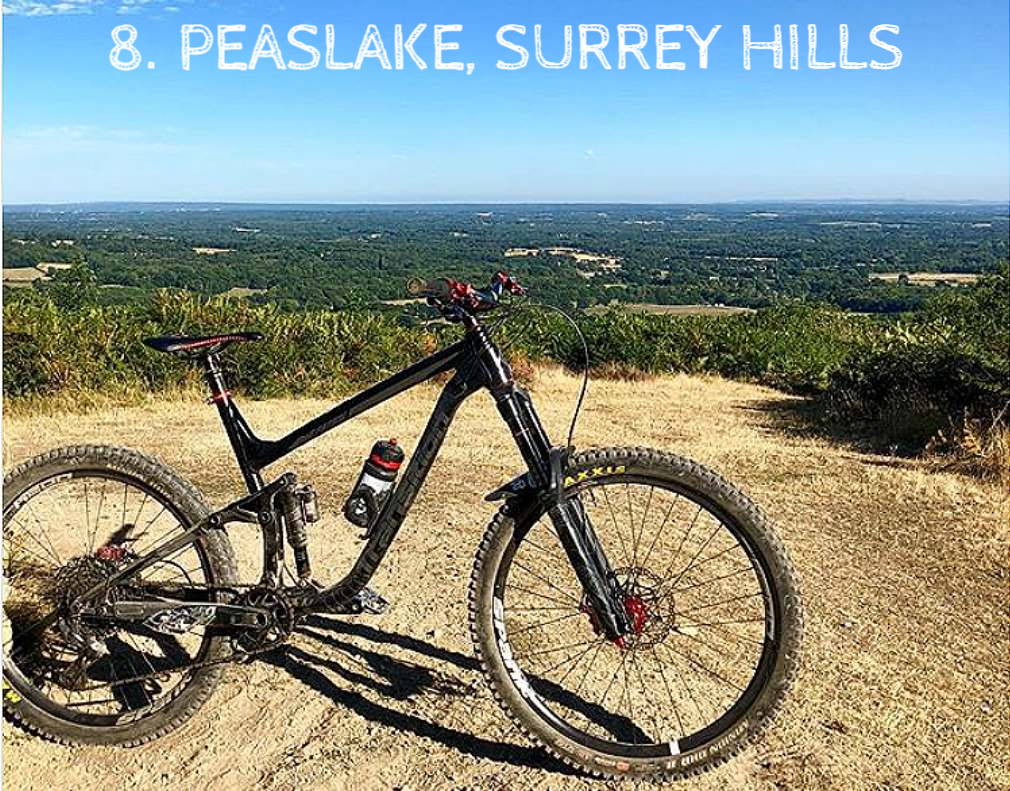 PHOTO CREDIT: https://www.instagram.com/lr_mtb/
Surrey Hills are FULL of trails to cater for anyone. There are short ones, long ones, challenging and less so. One popular route is a 34km ride which goes by the name 'Surrey Hills Classic'. This route explores the vast hills of Surrey and also many of its famous short off road trails, including the likes of 'Barry knows Better' and 'Yoghurt Pots'. 'Barry knows better' is a popular trail to finish with when exploring Peaslake which is a smooth, fast and fun trail with winding bends which throw you out at the bottom wanting to do it all over again. Other popular trails include 'Proper Bo', 'T4' and 'Telegraph Road'.
There is an extremely handy bike shop in Peaslake called 'Pedal and Spoke' which offers training courses, trail maps and also guided rides. They sell quick fixes for almost any mechanical problems your bike may face! There are tons of accommodation options available ranging from B&B's to campsites.